LEEVAC Shipyard Launches PSV for Aries Marine Corp.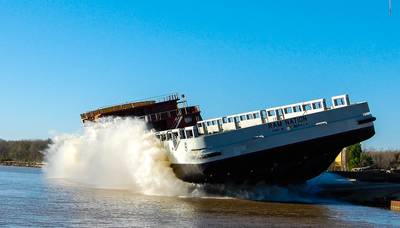 LEEVAC Shipyards Jennings, Louisiana, inform of the successful 'splash' launch of the Platform Support Vessel (PSV) 'M/V Ram Nation', pictured here.

The Ram Nation is a LEEVAC-designed 270 ft., diesel-electric, DPS-2, FI FI 1 Platform Supply Vessel that will be certified for worldwide operations. Chris Vaccari, owner and CEO of Leevac, explained that the Ram Nation is the first of four LDS-designed vessels currently under construction. The design was a joint effort between LEEVAC's engineering and Aries' operational teams.

Court Ramsey, President and CEO for Aries Marine Corporation who was in attendance said: "Today, LEEVAC Shipyards launched the first vessel of our new series of 4,000 DWT PSVs. Aries Marine could not be happier with the degree of craftsmanship, attention to detail and timeliness of this project. The LEEVAC team has worked diligently to produce a very fine vessel. We look forward to commissioning the M/V Ram Nation later this year and placing her on charter with a valued customer. Thank you to the whole team at LEEVAC!"

The Ram Nation is scheduled to be delivered during the third quarter of this year.