Parana River Push Boats Named at UZMAR Turkey Shipyard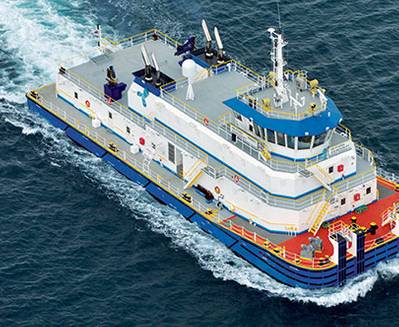 The first two in a series of 8 in total Robert Allan design SDP 4600 Class push boats have been named at a ceremony in the UZMAR, Turkey shipyard.
The shipbuilders say that these are the world's most powerful diesel electric triple Z-drive shallow draft push boats ever built, able to transport a 16 barge flotilla of 48.000 dwt capacity over a 2500 km range.
These push boats were ordered by Hidrovias do Brasil S.A. from the shipyard in 2013, and the first two of the series named respectively HB HYDRA ASUNCION-PY and HB AQUIARIUS ASUNCION-PY have now been delivered after successful sea trials.
The new boats will be used for iron ore transportation from North of Brazil to Uruguay through the Parana river inland waterways. The total distance is over 2,500 km with many extremely curved river sections and occasionally less than 3 m water depth where excellent manoeuvrability and a short crash stop is a necessity.

The boats are 45.6 m LOA, 16.5 m beam, with a 2,10 m navigational draft and a total power of 7200 bHP provided by three azimuthing Schottel fix pitch propellers in nozzles driven by Wartsila / ABB diesel electric propulsion configured for shallow water operation. During the sea trials, a max bollard pull of 69 tons and speed of 13.2 kts were achieved.
These first two were subsequently loaded side by side on board a semi-submersible ROLLDOCK vessel for transportation to their logistics base in Montevideo, Uruguay.

Mr Francisco Catarino, Hidrovias do Brasil Operations Manager in his speech during the naming ceremony noted: "Three years ago we could not imagine that UZMAR would find itself setting a new milestone building such powerful shallow draft push boats for a new and specific market in South America and other waterways around the world."