Great Lakes Shipyard Begins Work on William Market Ferry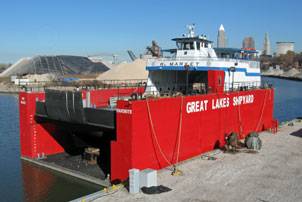 Great Lakes Shipyard, Cleveland, Ohio, drydocked the ferry William Market to begin maintenance and repairs for its U.S. Coast Guard five-year inspection. The work will include routine cleaning and painting, hull inspection, valve overhauls and steering system modifications. In addition to this, all of the ferry's exterior fiberglass bench seats are being replaced with new aluminum bench seats. This is the second time this year Miller Boat Line, the vessel's owner, has entrusted one of its vessels to Great Lakes Shipyard. Earlier this year Great Lakes Shipyard completed a 40-ft long mid-body extension and repowering of the M/V Put-In-Bay.

Since its beginning, Miller Boat Line has been family owned. Started in 1905 as a fishing charter, water taxi and ice harvesting business, the company has grown to become the largest ferry service on Lake Erie. Miller Boat Line is the only scheduled means of transporting freight, cars and commercial vehicles to Put-in-Bay and Middle Bass islands. The William Market owned by Miller Boat Line, Sandusky, Ohio, is an all-steel passenger and vehicle vessel. It was built in 1993 and is 96 feet long and Coast Guard approved to carry 500 Passengers.

The dry docking of the William Market is one of many new orders for the shipyard including the new construction of two sets of Sectional Floating Restroom Barges for the National Park Service, construction of two new 70-ft Aluminum Research Vessels for U.S. Geological Survey's Great Lakes Science Center and the recent construction and delivery of two barges for the U.S. Army Corps of Engineers for their Upper Mississippi River Dam project.