Raytheon Robotics Helps Shipyards Lighten the Load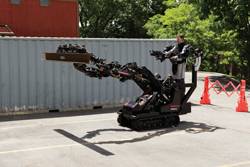 Dr. Fraser Smith of Raytheon is the President of Raytheon Sarcos, part of Raytheon's Integrated Defense Systems business. He's also the chief proponent of a new technology that could revolutionize how shipyards move, store and retrieve bulky, awkward and heavy materials. Raytheon is actively marketing the robotic device now and looking to find follow-on funding to make the product commercially viable. Based on their early findings and performance, they are well on their way to doing just that. Called "Big-Arm," the Teleoperation robotic system provides a unique solution by closing the "lift gap" between human strength and large-scale material handling equipment. Highly dexterous, intuitive and easy-to-operate, Raytheon's Big-Arm can safely and easily lift, transport and position heavy payloads (each "arm" can lift payloads up to 200 pounds; the dual-armed system can easily handle 400-pound loads) anywhere in the workspace, while maintaining a "light touch" that allows the user to leverage his or her own fine motor skills.
At a recent, one-week demonstration test at a Virginia shipyard, the futuristic tool not only proved its mettle, but also left a distinct impression on those who got to operate and/or observe the technology in action. According to Yank Rutherford, director of ship integration and concept of operations with Newport News Shipbuilding, a division of Huntington Ingalls Industries, the tests left senior management "favorably impressed with the technology." Gary Good, Field Engineer for the same shipyard, echoed those remarks in a mid-October interview with MarPro editor Joe Keefe.
The robotic big arm does more than just lift heavy objects. In a business where efficiency – perhaps more than any other – and time is money, shipbuilding is also dangerous and labor-intensive. And yet, in tests performed at the Newport News Shipyard, "Big Arm" lifted more than 200 pounds deftly, in single lifts faster than human workers could perform multiple moves of far less weight. And, it more than outperformed an overhead crane performing similar tasks. Beyond this, the device removes the human element from potentially dangerous situations, hazardous atmospheres and virtually eliminates the chance of someone being injured while performing tasks that were previously done via manual labor. Indeed, Raytheon's Smith thinks that the device could pay for itself over time simply through the reduced cost of legal fees, lost man-hours and medical bills.
But Smith reports other benefits, as well. With shipyard inventory control long a headache especially in cramped U.S. yards with nowhere to expand, the need to efficiently stow materials where they can be quickly retrieved – and more importantly – found, during the building process has always been important. "Big Arm," reports Smith, eliminates the need for tracking controls such as RFID trackers by remembering where it put any lift, saving valuable time. And, its ability to numbly stack and place materials in compact areas can more than make up for inadequate apron space alongside the ship under construction.
Separately, the use of robotics to perform manual labor quickly and safely is increasing, allowing professionals across a variety of industries to focus efforts on more strategic tasks. Last year, the industrial robotics market was $1.4 billion, compared to just $615 million in 1995. Raytheon's new robotic system, designed to lift, move and handle heavy objects in complex shipyard environments could well be a significant part of that growing equation.
www.raytheon.com
(As published in the Decmeber 2011 edition of Maritime Reporter & Engineering News - www.marinelink.com)