Update on Acta Marine's 'Shoalbuster' Fleet Deployment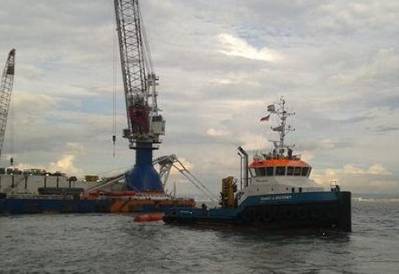 Shallow water offshore support services operator Acta Marine gives an update on the worldwide deployment of its specialized vessels.
In Asia the Coastal Victory is engaged upon offshore support activities with a shallow draft pipe lay vessel in Korea and Taiwan. This 50TBP Multi-purpose Anchor Handling vessel is well positioned to support new maritime infrastructure projects in this growing region.
In the Middle East, the Coastal Ranger and Coastal Rambler are involved in the construction of artificial energy islands. Such artificial islands, serve as alternative for oil exploration and exploitation from steel offshore platforms.

In the Russian Region of the Caspian Sea, Acta Marine's latest fleet addition, the Coastal Voyager, is actively involved to support a shallow draft Construction Barge. The project is related towards the construction of several platforms for Oil production in the North Caspian Sea. This works takes place under challenging weather conditions and in ultra shallow waters.

West Coast of UK: closer to Acta Marine's UK home-base is the Coastal Vanguard supporting a cable lay vessel is preforming anchor handling services in shallow draft waters, for a project related to the construction of an offshore wind farm.