Global Diving Assists Shore-Based Salvage Ops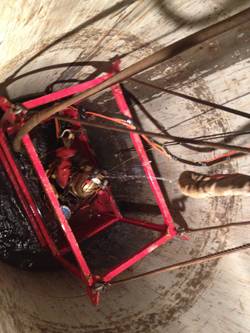 Divers Assist in Successful Extraction of 170 foot Oscillator Casing.
During the planning of the upcoming underground excavation extending San Francisco's BART subway system and the proposed addition of a station for the future high speed rail network, city engineers worried about the possibility of destabilizing the foundation of one of the city's tallest mixed-use high rise's. Becho, Inc. was contracted to construct a buttress shoring wall detailing 207 secanted shafts of connecting underground pilings (207 - 7 foot diameter by 250 foot deep) using Oscillator Technology, with the hopes to prevent the seepage and movement of the soils from the adjacent building's foundation into the excavation zone.
This process uses connecting 25-foot length casings rotated into the ground. As the sections are slowly rotated, a mechanical clamshell excavates the material from inside the casing, allowing deeper penetration. During the extraction of one of the casings, 3 sections separated, located at the 120ft, 145ft, and 170ft marks.
Divers from the local Rio Vista, CA office of Global Diving & Salvage, Inc. were brought in to reconnect the sheared sections of casing – working within the narrow confines of the 7ft diameter casings up to 170ft underwater. Approximately 20 - 3 inch diameter holes were drilled through both casings at the overlap to allow high shear strength pins to be installed and welded in place. Successfully, the pins held as the casing was being removed. During this process, over 400,000 pounds of horizontal torque and around one million pounds of vertical pull were exerted on the repaired sections.