Modern Classic Yacht Designs Showcased at NY Yacht Club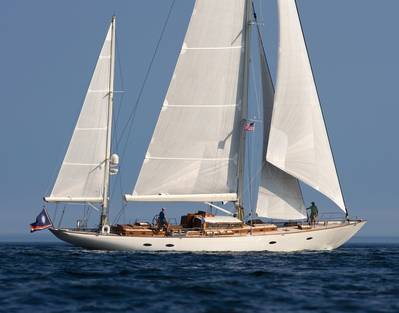 Bob Stephens co-founder of Stephens Waring Yacht Design, and Alison Langley – acclaimed marine photographer – were at the New York Yacht Club recently to showcase their plans for the forthcoming season.

In the crowded Model Room over 70 guests heard Stephens talk about the development of Spirit of Tradition/Modern Classics. He spoke passionately about the rich heritage of yacht design and production, and highlighted the fact that these boats do not replace classic yachts but instead, complement them.
Stephens, who has been at the forefront of developing the Spirit of Tradition concept since its inception in the early 1990s, said: "There's a desire for people to have new objects that feel like old objects ­­– objects that are obviously hand-crafted by caring expert artisans. A true modern classic faithfully delivers on that front, but also delivers an equally carefully engineered and sophisticated modern experience in structure, performance, and comfort."

Included in Stephens' many featured yachts was Bequia – one of Stephens Waring Yacht Design's largest bespoke designs to date. Built five years ago, this 90ft yawl has all the characteristics of a modern classic, and her owners take pleasure in her not only because she is comfortable, easy to sail, and competitive, but also because she is aesthetically very pleasing.
Other projects lined-up for the year include Stephens Waring Yacht Design's presence at the Palm Beach International Boat Show (20-23 March) in a supporting role for Todd French, of French and Webb – builders. One of this company's latest projects is the Zogo – a stylish and innovative hybrid propulsion system boat.

Stephens commented: "We have thought for a long time Zogo would be well-suited to the Intracoastal Waterway and canals of South Florida, so this is an opportunity to introduce the boat to the boating populace and educate them about the great features of her hybrid propulsion system."