Side-scan, ROV, Search for Lost Franklin Ships Under Way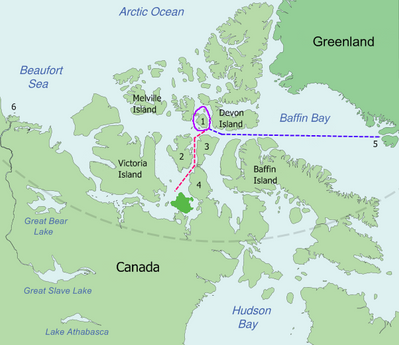 The search capacity this year, beginning around 10, August 2013, for almost 6 weeks in the Canadian Arctic will be the most comprehensive yet: Parks Canada will be joined by a broad array of partners for a fifth season in search for the historic shipwrecks 'HMS Erebus' and 'HMS Terror', from the ill-fated Sir John Franklin voyage.
This year, the Royal Canadian Navy (RCN) and Defence Research & Development Canada (DRDC) will lend their expertise and enthusiasm to the project, which also includes the Arctic Research Foundation, the Government of Nunavut, Canadian Hydrographic Service, Canadian Coast Guard, the Canadian Ice Service, and Canadian Space Agency.
The Parks Canada-led survey team will conduct the underwater search from aboard the Arctic Research Foundation's Research Vessel Martin Bergmann for the full 6 weeks or so, and will be further supported during that time by the Canadian Coast Guard Ship Sir Wilfrid Laurier for an additional week. The team's traditional side-scan sonar surveying method will be boosted this year with the addition of a military-grade, side-scan sonar provided by DRDC, and by a new autonomous underwater vehicle (AUV) and remotely-operated vehicle (ROV), recently acquired by Parks Canada.
Survey technology for this year will include towed side-scan sonar, equipped with single-beam echo-sounder for the collection of bathymetry, from the Martin Bergmann. In addition, Parks Canada's UAS has acquired a new Autonomous Underwater Vehicle (AUV), equipped with high-resolution side-scan sonar and a new remotely-operated vehicle (ROV), equipped with high-definition video camera and sector-scanning sonar system, which will play a critical role in authenticating any seafloor anomalies, such as a shipwreck or its detached debris.

The DRDC additional side-scan sonar system will be towed behind the UAS Research Vessel Investigator, which will be deployed from the Sir Wilfrid Laurier during the 7-day survey targeting Victoria Strait.

As with all past surveys, the data acquired will be shared among partnering organizations, which contributes to important priorities like safe navigation and environmental knowledge of the Canadian Arctic.