Silence on the Ship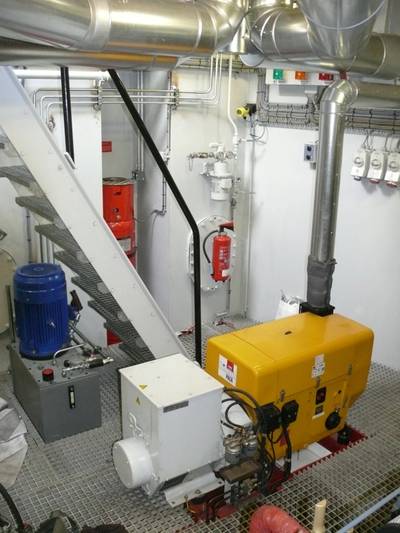 A double-hulled tanker called Bernhard Dettmer refuels ships in Hamburg Harbor – power supply on board is provided by a Hatz SilentPACK diesel engine.

It is end of the working day. Calm returns on board the Bernhard Dettmer, although the diesel engine is running, supplying the ship with power. There is no noise, however, because the engine is running very quietly. This is one of the outstanding features of the Hatz 4L41C SilentPACK engine. The Bernhard Dettmer is a double-hulled tanker, which is used as a bunkering vessel in Hamburg Harbor. Built in 2008, it is 100 m long and 9.50 m wide. It is able to load 1,833 tons of fuel which it supplies to large vessels. It often occurs that these vessels are so large that it has to go back and forth twice or even three times in order to provide the enormous amounts of fuel which e.g. container ships need.

Noise Reduction by 90 Percent
SilentPACK means: The Hatz engine is fitted in an insulating casing made of 1mm thick steel sheets. This steel sheet casing reflects the sound of the engine. Moreover, the engine's feet have been insulated to reduce structure-born sound. Due to these constructional features, ten running SilentPACK engines are as silent as one engine that has not been encapsulated. The sound of Hatz SilentPACK engines thus is reduced by 90 percent. Apart from sound insulation, Hatz has also found an ideal solution to deal with the heat generated by the engine. An efficient cooling air flow within the housing guarantees that the engine cannot be overheated. Not even here, in the belly of the ship. Hatz offers SilentPACK as two-, three- and four-cylinder engines ranging from 15 to 48.8 kW. This ship is equipped with a Hatz 4L41C, a four-cylinder engine with 30.0 kW at 1,500 min-1 and an engine capacity of 3.4 liters.

Safety Comes First
The shipping company Dettmer, with a rich tradition, meanwhile is active in various fields. It is engaged in inland waterway transport and holds a fleet of 25 ships. Moreover, it provides logistics services and, among others, owns a company which is active in the fields of aviation. In order to be permitted to operate the ship, the master of the Bernhard Dettmer has to possess a boatmasters' certificate grade A, he must be freed from compulsory pilotage and has to be authorized to operate free of pilot in determined areas. He needs to possess comprehensive expertise combined with excellent practical skills because waterways demand much more knowledge and experience from an operator than for example railways do. Swell, wind and intensive shipping are important factors the ship's master has to consider and control when he operates a vessel.

80 Years of Experience
It is of utmost importance for the internal power supply of the vessel that the Hatz diesel engine runs without the risk of standstills. This is a feature of Hatz engines that can be attributed to the fact that Hatz has been constructing engines for 100 years. Many constructive ideas have been integrated in the engines until they became the most fuel preserving and continuously efficient engines in their class. Another effect of this extensive experience in construction and production is that Hatz engines became very easy to maintain. Maintenance is limited to only a few, essential points. Maintenance points for oil control, refilling and change of oil or filters are easily accessible from outside. This also applies to the cleaning of air filters. All necessary maintenance points have been equipped with appropriate lids and quick release fasteners for easy access. And, very important, the sound casing does not impede maintenance works at all. The Hatz branch which is looking after the Bernhard Dettmer is situated in Hamburg. It provides advice and support whenever needed. Thus, there is silence on board the Bernhard Dettmer – in two senses and in the truest sense of the word, as well.