Engine Room Simulator Upgrade, Bodin Maritime School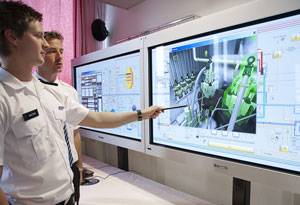 Kongsberg Maritime's Simulation division has recently signed a new contract with Bodin Maritime School for an extensive upgrade of its existing engine room simulator. The upgrade will make the school the most modern and comprehensive engine room simulator facility in Norway, with the ability to offer a range of exercises for training and courses on different levels.

As part of the upgrade, the existing engine room simulator will be extended to include an additional full mission engine room simulator featuring Kongsberg's Big View, which is a software based mimic panel with interactive touch screen and pop-up windows showing a 3D visual engine room to provide ultimate system understanding. The system also includes a control room with hardware consoles with touch panels, in addition to a main switchboard with interchangeable switchboards. The new simulator system from Kongsberg offers unique flexibility, allowing the school to easily change from a diesel electric cruise ship model to a VLCC MAN B&W MC90-V model for different training exercises.

Also included in the delivery, is integration between the full mission engine room simulator and the ship's bridge simulator, which was previously delivered by Kongsberg. The integration will give Bodin Maritime School the possibility to offer team training for normal as well as for emergency training scenarios.

With an upgrade of its existing engine room models, and extension with several new ones, Bodin Maritime School will offer a total of eight unique engine simulator models to support a wide selection of courses. The training library will range from a trawler to a LNG carrier with dual fuel diesel electric propulsion. One of the latest models to be added is a container ship with a Wärtsila RT-flex (common rail) engine, which is a specially developed engine simulator model for training on green ship operations. This reflects the school's orientation towards the maritime industry's requirement for environmentally friendly operations at sea.

The upgrade will start in springtime 2011, with the aim of having the simulator park fully up and running when the school year starts in August. In addition to the engine room students, the school also offers courses to local ferry companies.