Singapore Tops as Leading Maritime Capital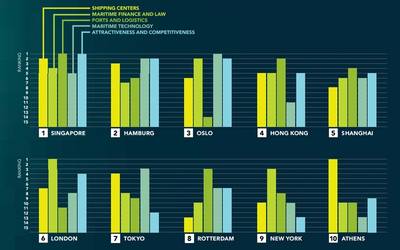 Norwegian consulting firm Menon has named Singapore as the world's leading maritime city, according to a Menon Business Economics Group survey.
Singapore ranks first based on its business friendly policies, and strategic location on the trade route
between Europe
and Asia.
It emerged first among 15 cities that were benchmarked in five categories: shipping centres,
finance
and law, technology, ports and logistics, and attractiveness and competitiveness.
"With its business-friendly policies and being strategically located on the trade route between Europe and Asia, Singapore has gained a position in the global economy few would have predicted 40 years ago," said the report, which comprised of responses from 196 maritime professionals from 33 countries.
"As recently as 10 years ago,
Singapore lacked
maritime research and education, and the lines between foreign and domestic companies were weak. Today, the city plays a key role in all aspects of the maritime industry," says the report.
Hamburg was ranked second in the report, followed by Oslo, Hong Kong and Shanghai.
Singapore was second as a shipping center after Athens, which has "an impressively large and strong shipowning community".
The report polled 200 maritime professionals from 33 countries in order to reach its findings, and maritime cities were benchmarked according to indicators of finance, technology, ports and logistics, and shipping, as well as competitiveness and attractiveness.