Hijacked Singaporean Ship Released in Nigeria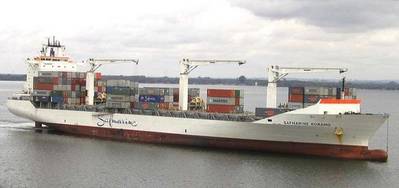 The crew of a Singapore-registered container vessel, Safmarine Kuramo, hijacked off the Nigerian Coast earlier this week, were released unharmed on Saturday (Feb 6) following efforts by Nigerian authorities.
All 25 crew members on board, comprising nationals from India, South Africa, the UK, Thailand and the Philippines, are reported to be safe.
Nigerian authorities had secured the release of all crew members and the vessel at 1.20am this morning, 5 hours after a report was first received by the Maritime and
Port Authority
of Singapore (MPA).
"There were no Singaporeans on board the vessel," a statement from MPA said. "MPA worked with the company on the safety of the crew and vessel," the statement said.
Safmarine Kuramo is managed by Maersk Line. MPA said that as Flag State, it worked with Maersk Line on the safety of the crew and vessel.
The vessel is currently anchored in the waters off the Bonny River delta where the waterway leads to Port Onne.