Singapore's Jaya Delivers New Deepwater PSV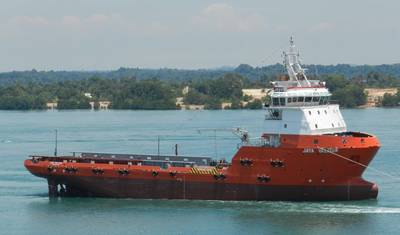 Jaya Holdings Limited say that the new PSV was delivered on schedule and on delivery went on-hire immediately, embarking on its maiden voyage as part of a long term charter contract in South East Asia with an existing customer undertaking fracturing work.
Jaya Valour is one of the four PSVs in Jaya's new build program, of which three have already secured contracts for charter. The total value of these three contracts is more than US$60 million, including optional extension periods.

The new vessel has more than 1,000 square metres of clear deck space, fire fighting capability and dynamic positioning to DP-2 class and has accommodation for up to 60 people on board including workout equipment and an internet café.

Jaya Valour has the capacity to carry up to 5,500 tons of cargo deadweight and her versatile cargo capacities have been further upgraded to be able to load, process and deliver specialised fracturing proppants to stimulate production from offshore oil and gas wells.
The Group owns and operates more than 25 offshore vessels working across South East Asia, the Middle East and West Africa on charter to both oil companies and offshore services companies.

www.jayaholdings.com