Sinopacific Secures Order for 4+2 Bulkers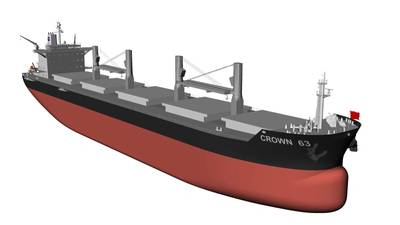 Sinopacific Shipbuilding Group, Leading the Supramax Bulk Carrier Market, Secures Order for 4+2 Crown 63 Ships.

Sinopacific Shipbuilding Group secured an order for 4+2 Crown 63 (63,500 DWT) Supramax bulk carriers from a foreign ship owner on October 8. The Crown 63 is a new generation bulk carrier which is self designed by Sinopacific Shipbuilding Group. This ship became the focus of attention from around the shipping world as soon as it was introduced on the market, and many orders were quickly received for it. The Sinopacific Shipbuilding Group held a shipbuilding order signing ceremony especially for this occasion, which was attended by Group Chairman and CEO Simon Liang, representatives of the ship owner, Industrial and Commercial Bank of China Yangzhou Branch Vice-President Tao Cheng, Agricultural Bank of China Yangzhou Branch Vice-President Zhu Bingzhong, and Bureau Veritas Senior Vice-President Didier Bouttier.
In the post-financial crisis era, competition in the shipbuilding industry has become increasingly intense, and ship owners with interest in purchasing ships are clearly favoring products that offer more economical operations. With perfect timing, Sinopacific Shipbuilding Group has come out with a ship—the Crown 63, which is the most competitive product in the Supramax bulk carriers. This ship has reliable safety that meets the latest international regulations. It also provides excellent comprehensive performance in the three areas of deadweight tonnage, fuel consumption, and service speed. This ship's EEDI parameters easily meet the standards of the International Maritime Organization (IMO), and its design anticipatively conforms to the latest requirements for environmental protection.
The Group's Dayang Shipbuilding Co., Ltd. has successfully delivered fifty-two Crown 58 bulk carriers to date, and that ship's operations-friendly design and solid construction quality have won it widespread praise and recognition in the market. The Group has always worked hard to improve on its past success and to boldly pursue innovation, which is reflected in the development of the Crown 63, the upgrade from the Crown 58. All the performance indicators of the Crown 63 have been further optimized, so while guaranteeing an operating speed that is equivalent to the Crown 58, the Crown 63 also provides 9% more deadweight tonnage and 13% less fuel consumption. Its exhaust emissions have been greatly reduced, and it also provides ship owners with greater competitiveness in many areas.
Because of these advantages, orders for 30 ships were received for the Crown 63 as soon as it was introduced on the market, of which 14 orders were for the year 2011, making up about 20% of the total global orders for Supramax ships this year. Sinopacific Shipbuilding Group Chairman Simon Liang stated: "Sinopacific Shipbuilding Group will continue to persist in its strategy of relying on the innovation of business models and advanced technology to maintain its leadership position in this niche market of shipbuilding."