Smith Berger Mooring & Towing Solutions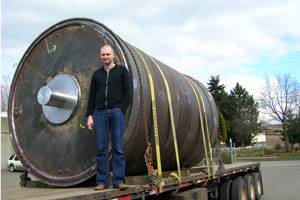 Smith Berger Marine, Inc. recently delivered another towing pin stern roller set to Baydelta Maritime for installation on their 100 ft, 94 Ton Bollard Pull tug, Delta Cathryn, currently being built at Nichols Brothers Boatbuilders. The towing pins are designed for use with 2.5 inch wire rope and are the fourth set delivered to Baydelta for this vessel class. The tow pins and hold down hook are hydraulically raised and lowered by a dedicated hydraulic power unit located below deck; operation is from the control panel situated in the wheelhouse.

In April, Smith Berger furnished a similar tow pin set for the Northland Services tug Polar Storm. That unit, designed for a double drum winch, has four towing pins, two hold down hooks and a split stern roller. This configuration will allow for both wires being used for a dual tow set-up.

Smith Berger is nearing completion of a two year project furnishing fifteen stern rollers for Remontowa Shipyard in Gdansk, Poland. The 2,500 mm diameter by 40,000 mm long stern rollers are designed for a SWL of 450MT and are furnished with bearing blocks, bronze bearings and an automatic grease lubrication system.

Smith Berger remains busy designing and manufacturing fairleads and guide sheaves for spread mooring systems. A recent project for a pipelay barge being built at Keppel Shipyards in Singapore required a 10 point mooing system for 64 mm wire rope. The system was comprised of 10 double sheave fairleads and a combination of 18 vertical and horizontal guide sheaves, 10 of which were fitted with load monitoring shafts providing outputs for local display units. The outputs from the load pins were also integrated into the constant tension controls of the mooring winches.