Horizon Awarded for GORDHEAD Software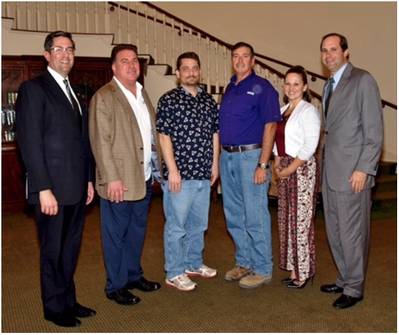 Horizon Shipbuilding, Inc. of Bayou La Batre, Ala., has been presented with the 2015 "Innovator of the Year" award by the Mobile Alabama Chamber of Commerce for Horizon was recognized for its GORDHEAD collaboration software aiming to revolutionize the way shipbuilders and other manufacturers conduct business.
Horizon described GORDHEAD as its new "brain" for management and supervision to improve communication by more easily sharing problems and quickly arrive at collaborative solutions.
Horizon created and utilizes GORDHEAD to enable its management and production teams to communicate in seconds, not hours, days or weeks. The software provides the ability to share drawings, specifications, schedules and other necessary information with Horizon's production leaders and in turn with the craft building the vessels. Each production leader carries a ruggedized wireless computer pad that allows them to stay connected to their project at all times. They are able to pull up the latest revisions of drawings, read the contract specifications, order necessary material, review the project schedule…pretty much anything the project requires; all while being at their work site on the boat.
Horizon's customers are also able to join in the use of GORDHEAD to track the progress of their vessel in real time and be part of the discussions, monitor progress and even review the real-time production schedule without being physically on site.
In addition, Horizon's payroll, accounting and scheduling software is integrated into GORDHEAD and real-time reports are immediately available. Report data is automatically synchronized with the external software and reports are generated automatically with a push of a button.