Solar Powered Wavepiercer Cat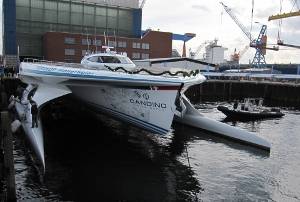 On March 31, 2010 the roof at the HDW Shipyard in Kiel, Germany slid open to reveal to the daylight the what is claimed to be the world's largest solar powered vessel, a wavepiercer catamaran named Planet Solar. Appearing small against the back drop of the giant crane hoisting her to the water and the enormous ship building halls she was assembled in, the 101.7 ft long, 52.5 ft wide carbon fiber craft was launched a few hours later into the Kiel fjord, floating to her lines and looking more like a misplaced space ship than an ocean going yacht.

Penned by New Zealand's LOMOcean Design (formerly Craig Loomes Design Group) and constructed by Knierim Yachtbau of Kiel, this unique craft is intended not only to serve as the ultimate 'green' motoryacht, but also - under the auspices of the eponymously named Planet Solar organization - to be the first vehicle of any kind to circumnavigate the globe under solar power alone.

Over the course of its eighteen month gestation period, the project has served to highlight not only the capabilities of current photovoltaic solar cell technology, but also the state of the art in wavepiercer catamaran hull design, of carbon fiber propellers and efficient electric motors, plus the best of advanced composite shipbuilding and the latest in lithium ion battery technology. The combination of these technologies allows the 85 tonne craft to run at a passagemaking speed of approximately seven knots from just 20kW of installed power. To put it into perspective, imagine a 100-ft yacht of any kind being propelled at seven knots by just a 25 hp outboard motor.

Of significant importance to her owner was that this boat should be supportive of passengers and crew in relative comfort – Planet Solar is not a stripped out race boat, optimized solely for the circumnavigation - rather she is a spacious motor yacht, with an interior arrangement offering six double cabins, each with ensuite bathroom, a large saloon and dining area plus a spacious aft deck and separate crew quarters. Sunbathing space is however at a premium, with over 5,380 sq ft of the deck surface covered in solar cells, with just a blister style wheelhouse breaking the expanse of blue-black paneling.

Fitting of the side and transom solar panels and dockside commissioning will occur in coming weeks. The circumnavigation is scheduled for mid 2011 and more details relating to the challenge are available on the Planet Solar website (www.planetsolar.org).