ENC Chart Updates – A New USB Solution by Navtor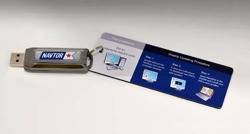 Norway - E-navigation Company NAVTOR launch 'NavSync' a smart and totally new way to distribute and update ENCs, a relief for all mariners
"With the NavSync we are now able to offer the vessel a far better and far more cost-effectively way to receive and update the ENC portfolio onboard. When a new subscriber signs up to our service, we distribute the ENCs on the NAVTOR NavSync USB compatible device. By using the USB port on the ECDIS the ENCs are installed easily in one operation without feeding different CDs.
Updates can easily be downloaded to the NavSync via internet on a computer onboard. After having downloaded the latest version of the ENC updates, the NavSync program offers a print function to produce a report for Port State or vetting control verifying that the vessel is equipped with the latest ENCs. " says Sales Manager Børge Hetland, and concludes; "The NAVTOR NavSync has made CD distribution a time of the past for those vessels with an ECDIS outfitted with a USB port."
The introduction of NavSync comes just months after NAVTOR launched its ground-breaking "Pay As You Sail" DNV-approved NAVTOR ENC Service, giving ships' navigators instant access to ENCs through a subscription-based model. The PAYS service creates an easy, and cost effective, solution for the complicated task of managing Electronic Navigation Charts (ENCs).The service allowing automatic licensing, a great benefit for the navigator that doesn't need to worry about planning a route and ordering ENCs and managing permits.
NAVTOR marketing manager Willy Zeiler says; "With the launch of NavSync we have moved another step forward towards our final goal being able to offer a seamless ENC service. However it is important to acknowledge the constraints in the market bearing in mind that the great majority of the ECDIS systems in operation have not direct online connection. Therefore NavSync is a way to come around the problem.