Latest Dredging Solutions by IHC Merwede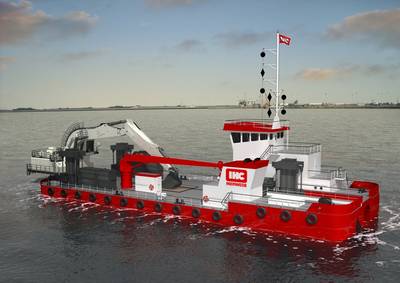 IHC Merwede to showcase its dredging, wet mining, and special purpose ships at forthcoming SMM 2012, Hamburg, Expo.
A number of impressive scale models will demonstrate the wide range of innovative vessels engineered and manufactured by IHC Merwede. Vessels such as the custom-built trailing suction hopper dredger CONGO RIVER; the self-propelled cutter suction dredger ATHENA; the pipelaying vessel SEVEN PACIFIC; and the well intervention vessel WELL ENHANCER.
IHC Merwede will also feature examples of advanced equipment designed to meet the demands of the dredging, mining and offshore sectors. These will include a flexible spud carrier for a self-propelled cutter suction dredger, a revolutionary spud system, the Curve® and the Bonecrusher®.
The flexible spud carrier – fitted to a standard cutter suction dredger – has been developed with hydraulic buffer cylinders to increase its flexibility. The cylinders are connected to nitrogen pressure vessels and can be set to move in or out at pre-defined forces acting on the spud connected to the sea floor. In this way, the dredger is able to move along with the waves – in case there is too much force – to prevent the spud bending or even breaking.
Additionally, the effect of the sea state on the spud load is made visible, enabling the operator to make an informed decision on whether to stop or continue operations, which in turn will lead to the increased availability of the equipment.
"SMM encompasses all of our activities in the world of dredging, mining and offshore," says IHC Merwede President Govert Hamers. "We will be capitalising on our leading position within the shipbuilding industry at SMM 2012 with some exciting new initiatives, including the revolutionary spud system for the standard backhoe dredgers.