New Marine Cable & Pipe Sealing Solutions from Roxtec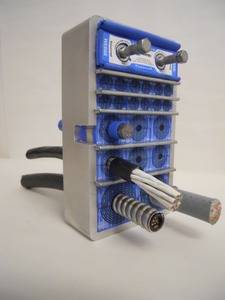 The company introduce two solutions that are key in the marine and naval industry.
Roxtec sealing solutions have been providing safety and long-term operational reliability, along with ease of installation, to ship owners and builders all over the world since the early 1990s. Roxtec continues to expand their product offerings to provide cable and pipe installers in the marine industry with simple solutions. Two are highlighted here:

Roxtec's Bonding and Grounding (BG™)
Recently, Roxtec has announced the availability of its unique new system: BG™ (Bonding & Grounding). The BG™ product family is a one-of-a-kind cable entry system designed to seal large quantities of metal clad or armored cables using minimal space. When used onboard ships and enclosures BG™ has proven to eliminate costs by significantly reducing design and installation time --- while also providing optimum electrical safety and protection to people and equipment. The BG™ cable entry system provides additional protection against water and fire.

Roxtec's Sleev-It™ Marine Pipe Sealing Solutions
Roxtec SLEEV-IT™ marine penetration seals are an ideal substitute for more complex options when using plastic pipes in marine applications, or when steel or copper pipes are being replaced by plastic and/or multilayer alternatives. The easy installation of the SLEEV-IT™ marine penetration seal provides considerable retro-fit capabilities which benefit many ship yards and ship owners.