Roxtec Cable & Pipe Sealing Solutions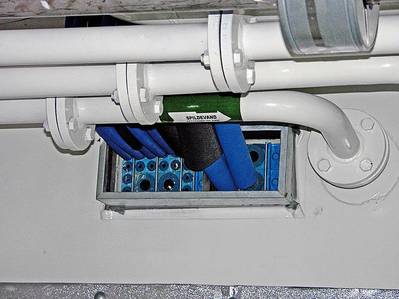 Roxtec unique cable and pipe sealing provides standardized solutions for naval & other shipbuilders.

Shipbuilders and ship owners can now easily standardize with Roxtec cable and pipe transits. Roxtec currently has the largest number of tests and certificates in the industry. Approved for A-class rated sections, Roxtec seals protect against fire, water, pressure, thermal bridges, and material fatigue.

The Roxtec total sealing system surrounds cables, metal pipes and plastic pipes and can be opened repeatedly. In addition, electrical departments can simply add a cable without structural intervention.

Roxtec's sealing solutions can be effectively used on naval ships for pipe transits on deck bulkheads, deck transits, outer lighting, communication areas, engine rooms, engineer control room, bridge deck, wheelhouse, and thruster areas.

In addition, Roxtec has recently purchased SLEEV-IT product line. Various size collars are produced to fit the actual penetration point being protected. SLEEV-IT marine penetration seals can be fitted on either side of the deck or bulkhead, thereby providing optimum flexibility of space and location.