AIDAprima Makes Maiden Call at Southampton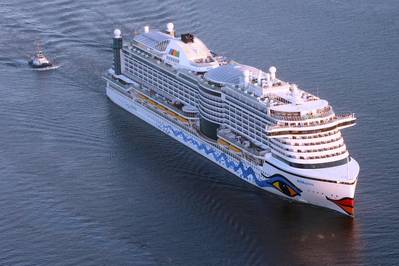 AIDA Cruises' new flagship AIDAprima docked in Britain's Southampton port for the first time on the morning of April 27, 2016, as part of a four-day short cruise.

AIDAprima will become the first cruise ship to depart from a German port all year round, from May 3 onwards visiting Southampton on Mondays as part of seven-day cruises to Western European cities from Hamburg. From April 30, 2016 Hamburg will be the departure and arrival port for seven-day round trips to cities such as London, Paris, Brussels and Amsterdam.

The Italian-flagged AIDAprima is the first cruise ship delivered to AIDA Cruises as part of a two vessel order from Mitsubishi Heavy Industries' (MHI) Nagasaki Shipyard & Machinery Works. Delivered in March 2016, the ship is scheduled to be christened by actress Emma Schweiger on May 7 as part of the 827th Hamburg Port Anniversary celebrations taking place May 5-8.

The AIDAprima has 18 decks, 1,643 staterooms, is 300 meters in overall length, and has a gross tonnage of 125,000 tons. Indoor amenities include a three-story multi-purpose theater in the center of the ship's atrium, 12 restaurants, 18 bars, shops, a 3,100-square-meter "Body & Soul" area, discotheque, casino and micro-brewery. The uppermost deck has two swimming pools under large foil domes (one with a water slide) and an ice skating rink.

AIDAprima will also be the first cruise ship in the world to be operated using LNG when at berth in all the ports she visits during her metropolis cruise. The preparations and initial permit procedures for the ports of Hamburg, Southampton, Le Havre, Rotterdam and Zeebrugge are already well underway. LNG trucks will ensure the supply of LNG to AIDAprima. In contrast to the use of traditional marine diesel containing 0.1 percent sulfur, emissions will be significantly reduced when using LNG. The emission of sulfur oxide and soot particles will be completely prevented. Nitrogen oxide emissions will be reduced by up to 80 percent and carbon dioxide emissions by 20 percent. AIDA Cruises will begin test operations in the first ports within the coming weeks.

Additionally, the AIDAprima is the world's first cruise ship equipped with the "Mitsubishi Air Lubrication System" (MALS)1, MHI's proprietary technology that enhances fuel efficiency. Other cutting-edge technologies that save energy, increase automation and reduce manpower needs include a pod propulsion system, the LNG fuel supply system, the latest gas emissions treatment system, and a new air-conditioning system that saves on energy consumption by using waste heat.