New Vessel Traffic Equipment at ABP Southampton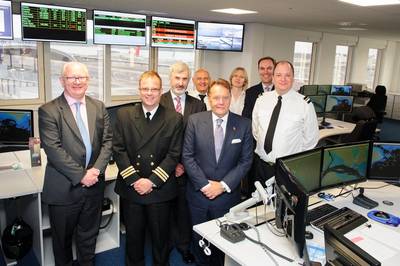 Associated British Ports marked the latest in a series of multi-million dollar investments in the port of Southampton by inviting the Rt Hon John Hayes CBE MP to open its brand new vessel traffic service (VTS) operating room, (September 21).

The Minister of State at the Department of Transport was in attendance as Britain's leading ports company revealed its $5.2m investment in a new office with state-of-the-art equipment at Ocean Gate, Southampton, which will be manned on a 24/7 basis.

Hayes took a tour of the operations room with James Cooper, chief executive at ABP and Alastair Welch, port director at ABP Southampton, before unveiling a plaque to commemorate the office's opening.
The port's vessel traffic service staff are responsible for the daily management of one of Britain's busiest waterways, co-ordinating the movements of some of the world's largest container ships and cruise liners, right down to small yachts and leisure boats.
The new technology includes a radar system, automatic identification system (AIS), CCTV cameras and fiber optic cabling.
This latest announcement follows the port's recent $64.8m investment in vehicle handling facilities, and $10.7m upgrade of its Fresh Produce Terminal.
Alastair Welch, port director at ABP Southampton, said: "ABP Southampton has over 1.8m visitors passing through each year on the Solent, so it's vital our technology matches the scale of our operations.
"Safety is paramount at the port, and our latest investment will ensure the continued safe passage of all vessels on one of the UK's busiest stretches of water."
Shipping Minister John Hayes CBE MP said: "It is vital for the UK's economy that the world's largest commercial and cruise ships are able to call safely at the UK's world leading ports, keeping goods on our shelves, supporting our exporters and taking people on holiday. I am delighted to have officially opened the new vessel traffic centre this morning and to have seen for myself some of the state of the art safety systems that will keep commercial and leisure vessels safe in the waters around the Port of Southampton.

"It is great to see ABP investing in Southampton and supporting this Government's efforts to grow our world class maritime industries."