Whaling Ship Stopped in the Southwest Pacific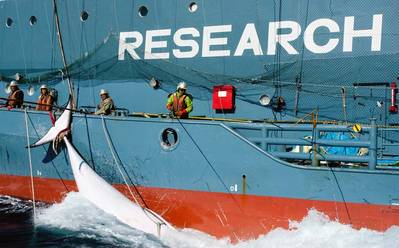 At 2:50 p.m. (AEDT) today the captain of the Sea Shepherd Australia ship The Bob Barker, Peter Hammarstedt, reported his ship had just crossed into Australia's Exclusive Economic Zone (EEZ) 200 miles off Macquarie Island, but a pursuing Japanese whale harpoon ship, Yushin Maru No. 3, has stopped one mile outside the zone.

Federal Minister for the Environment Greg Hunt had been in touch with the Japanese authorities over the impending invasion of the Australian Whale Sanctuary, which includes the EEZ, by the harpoon ship.

"Once again Sea Shepherd has seen the Japanese whaling fleet's tactics thwarted. But we are mindful that the fleet is publicly committed to killing another 931 Minke Whales as well as 50 Fin Whales and 50 Humpbacks," said Sea Shepherd Australia chair Bob Brown.

The two remaining Sea Shepherd ships, The Steve Irwin and The Sam Simon, are currently patrolling the Southern Ocean Whale Sanctuary in pursuit of the Nisshin Maru, another whale harpoon ship.