Sovcomflot Names New LNG Carrier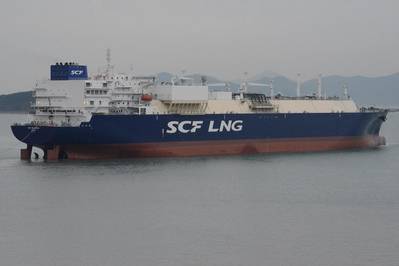 Russia's largest shipping company is continuing to develop its potential in the LNG transportation segment by entering into a new long-term agreement with Royal Dutch Shell.
On December 16, a naming ceremony was held for the LNG carrier SCF Melampus, the third tanker in a series of state-of-the-art vessels to be built under a partnership agreement between Sovcomflot and the shipyard STX Offshore & Shipbuilding. The first two tankers of the series, Velikiy Novgorod and Pskov, have already been put into operation on long-term contracts
with Gazprom
, with the design of SCF Melampus a continuation of this project. These ships have been constructed to adhere to all requirements of the charterer on ecological safety and energy effectiveness.
Atlanticmax LNG carriers have a load capacity of 170,200 cubic meters and are equipped with triple-fuel diesel electric power generation systems. The ships have the enforced ice class 'Ice2' and are designed to operate at low temperatures and in harsh climatic conditions. LNG carriers of this type are able to transport gas from the majority of existing export terminals.
Sovcomflot will receive the fourth LNG carrier in the series, SCF Mitre, in the second quarter of 2015.
Sovcomflot's Senior Executive Vice-President Evgeniy Ambrosov said, "Gas transportation is a strategic priority for the development of Sovcomflot, whose specialists have the required experience and expertise in LNG shipping.
SCF Group
and Royal Dutch Shell have enjoyed many years of mutually beneficial cooperation, on the basis of bilateral relations as well as during large-scale international projects. We are grateful to our respected partners for the trust they have shown in operating these modern ships over the course of ten years. SCF Melampus is a high-tech LNG carrier, one of the best tankers in its class, with a unique design and technical specifications. I am sure that we will continue to provide reliable and safe LNG transportation for our charterer."