Sovcomflot Group Launches SCF Far East Tall Ships Regatta 2018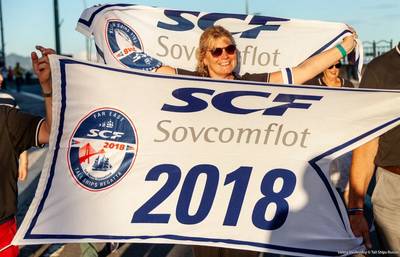 Russia's largest shipping company Sovcomflot Group (SCF Group) informed that the SCF Far East Tall Ships Regatta 2018 was officially launched. This marks the first time that Russia's Far East will host an international tall ship race.

The principal competition begins on 1 September with the race from Yeosu (South Korea) to Vladivostok, with over 20 vessels from Russia, Japan, China, South Korea, Indonesia, and other countries competing to be the first to cover the distance of over 500 nautical miles. The ships are expected to arrive to Vladivostok on 8-9 September 2018. The regatta events in Vladivostok will coincide with the 4th Eastern Economic Forum (EEF).

The regattas are traditionally held under the patronage of the heads of the participating states.

PAO Sovcomflot (SCF), Russia's largest shipping company, is the title sponsor of the regatta. The company pays special attention to water sports that increase young people's interest in the maritime profession. With the support of the company, the international tall ships regattas are held in Russia on a regular basis. The first one was held in the Baltic in 2009, with Saint Petersburg being one of the host ports.

In 2014, a regatta was held on the Black Sea for the first time, with vessels visiting the two Russian ports of Novorossiysk and Sochi. In 2016, it was followed by the second SCF Black Sea Tall Ships Regatta, and in 2018, it was decided to hold a similar competition in Asia Pacific for the first time.

The main objective of the regatta is to raise the prestige of maritime occupations amongst young people, to promote a healthy lifestyle, to encourage a maritime education and to further strengthen international cooperation and good neighbourly relations between nations.

SCF Group own and chartered fleet includes 147 vessels with a total deadweight of 12.7 million tonnes. Half of the vessels have an ice class.