Navy Transport Dock Ship Tests Spacecraft Recovery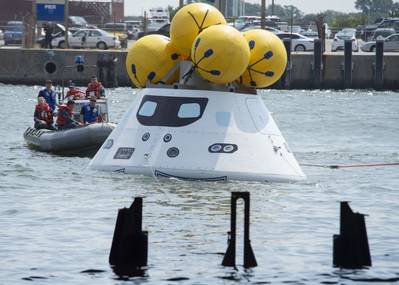 The first installment of a new and historic partnership between the Department of Defense and National Aeronautics and Space Administration begins as the amphibious transport dock 'USS Arlington' (LPD 24) conducts a stationary recovery test of the Orion crew module while berthed at Pier 12, Naval Station Norfolk.

During this test, a waterborne Orion crew module (a 16-foot, four-personnel upgrade of the Apollo capsule, which was half the size and carried a crew of three), assisted by divers and small boats, is winched into a cradle in Arlington's well deck.
The stationary recovery test with Arlington allows NASA and the Navy to demonstrate and evaluate the recovery processes, procedures, hardware and personnel in a controlled environment before committing to testing in open waters.

These experimental recovery tests are part of a U.S. government interagency effort to determine the best practices for safely retrieving space craft capable of carrying humans into deep space. The U.S. Navy has been part of America's space program almost since the beginning. From 1961 to 1975, Navy ships recovered Mercury, Gemini and Apollo spacecraft after splashing down in the oceans, transporting capsules and crews safely to land.
Orion is America's next-generation spacecraft that will take astronauts to new destinations never explored by humans. It will carry crews to distant planetary bodies, provide emergency abort capability, sustain the crew during space travel and provide safe re-entry from deep space. NASA also is developing a heavy-lift rocket, the Space Launch System, to expand human presence to celestial destinations beyond low-Earth orbit. This launch vehicle will be capable of lifting Orion to a variety of potential destinations including asteroids, the moon, and ultimately to Mars .