Blyth Delivers Specialized Passenger Workcat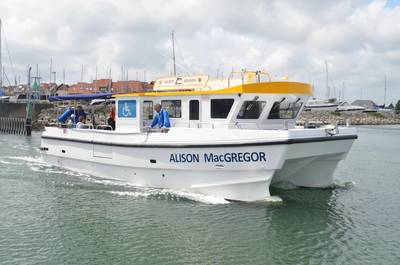 Blyth Workcat for passengers with disabilities delivered to Solent Dolphin.
A new 36-foot Blyth Workcat designed to accommodate handicapped passengers has been delivered to the Southampton charity Solent Dolphin. The M/V ALISON MacGREGOR replaces an earlier Prout Blyth 33 of the same name but incorporates numerous improvements based on 14 years of use and practical experience. Dr Charles Fay, general secretary of Solent Dolphin, was very pleased to take-over the new boat at the charity's base in Hythe Marina and believes that it will be a major benefit to the charity and a source of enjoyment for elderly and handicapped people in the region.
The experienced volunteer sailors who operate the M/V ALISON MacGREGOR worked closely with the Blyth design team to achieve their perfect cabin and deck layout. These include a very large and sheltered rear deck made possible by Blyth lengthening their standard 10-metre hull by one metre to create the company's first 36-foot boat. Wide stern doors provide horizontal wheelchair ramp access from the pontoon while lock-down rails ensure that they are secure when under way. The boat is permitted to carry 12 passengers but seating for 18 prevents crowding and ensures a choice of places to suit individual preferences. When these features are combined with the numerous small details devised by the Solent Dolphin team, the new boat will ensure a safe and comfortable experience for all passengers.
Named after a young lady who was a trainee manager for M&S in London and killed in the 1988 Clapham rail disaster, the M/V ALISON MacGREGOR is powered by two Iveco 150 engines supplied by Marlin Marine of Southampton to ensure dependable year round service. The new boat will continue to be one of the busiest in Southampton Water as it makes three two-hour trips seven days a week throughout the season, carrying passengers for whom a brief voyage can be an exceptionally enjoyable experience. The trips are completely free for the passengers as the boat is entirely funded by charitable donations from highly regarded sponsors in the region. The crews are made-up of trained local volunteers from various organisations and backgrounds such as the Rotary and Lions Clubs who undertake responsibility for the boat's operation on one-day-a-week basis.
In welcoming the delivery of the new boat Dr Charles Fay said; "It is difficult to describe just how much pleasure our passengers derive from a trip on the water. Our excursions are booked months in advance and we go out in most weathers because our guests are always so keen to be afloat. Blind people, for example, derive tremendous pleasure from the feeling of wind and rain on their face and it is a salutary reminder of our good fortune for those of us for whom boating and outdoor life is a routine experience. The donors who help make this possible are playing a valuable part in improving the lives of people who, through no fault of their own, are denied simple pleasures that the rest of us may take for granted. Our major supporter, Marina Developments Ltd, owner of Hythe Marina for example provides free berthing and hoist services for the M/V ALISON MacGREGOR." More information on the work of the charity can be found at: www.solentdolphin.co.uk.

The M/V ALISON MacGREGOR was built at the Blyth Workcats yard at Canvey Island in Essex. The company has been building GRP catamaran workboats for over 30 years and now has a range of craft in sizes up to 17-metres. They are suitable for a wide range of applications that demand reliability and durability combined with good sea keeping and economy. In addition to passenger transport, their uses may include wind farm support, survey work, charter diving and angling, commercial fishing, aquaculture and fish farm operations.