Spectro On-line Sulfur Analyzer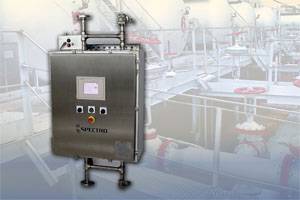 The SPECTRO 682T-HP On-Line High-Pressure Sulfur Analyzer from Spectro Analytical Instruments is an instrument for sulfur measurement of crude and other highly viscous hydrocarbons, including bunker fuels, residual fuel oils and heavy hydrocarbons.
The instrument has been installed at refineries, pipelines, blending operations, terminals and other storage facilities. Applications include bunker fuel blending to meet MARPOL Annex VI sulfur restrictions, interface detection of different grade fuels delivered via pipelines, and the monitoring of crude and blended fuels at remote storage facilities.
The new 682T-HP system can operate either as a stand-alone analyzer or can be tied in to plant wide automation systems to provide real-time strategic measurements.
The analyzer is especially suited for processes involving high sample pressures or where the fouling of flow cells from paraffin and similar substances may occur. It relies on X-ray Transmission/ Absorption (XRT/XRA) measurement and features a large diameter flow cell that further reduces interferences.
Among its other features are a fully integrated densitometer, automatic density compensation, password protected screens, and rapid update rates as frequent as one per second. Operation of the analyzer is regulated by an integral processor. The processor monitors and controls important instrument parameters such as process temperature, density and system diagnostics.
The unit has a comprehensive suite of alarms and a standard platform for communicating to a plant-wide DCS. Due to its unique design and robust construction, the system has minimal, if any, sample conditioning and recovery requirements.