Spliethoff Chooses Imtech for VSAT Network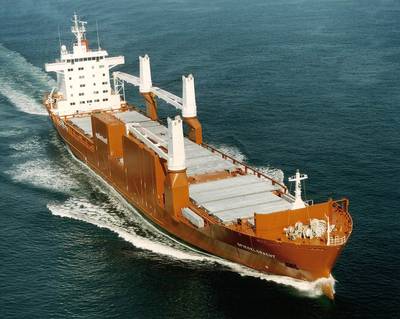 Spliethoff Group, one of the largest ship management companies in the Netherlands, has awarded Imtech Marine a three-year extension contract for the supply of a broad-ranging Ship to Shore Communications service on the global VSAT network of Radio Holland. Radio Holland is Imtech Marine's solution brand for Nav/Com and maintenance.

Amsterdam-based Spliethoff Bevrachtingskantoor BV and Radio Holland have worked together for decades and 27 vessels are already connected. Following the agreement made on February 17th, a further 22 vessels will be added. Initially, Spliethoff vessels were provided with a dedicated bandwidth of 256/128Kbps but all 49 vessels will now be upgraded to a dedicated 300/128Kbps bandwidth.

The total solution supplied by Radio Holland consists of hardware, installation, airtime and maintenance. In addition, Radio Holland will install the network cabling on board of 13 S-type vessels.

Peter Van de Venne, Director IT, Spliethoff explains: "The main reason for putting Internet on board is crew welfare. We offer our crew substantial free Internet access, which they can access from the comfort of their own cabin. The technology helps us to easily shift user accounts across the fleet, integrated with the office planning software."

Business Processes
"This solution speeds up communication and business processes considerably. We don't have to wait for an email exchange twice a day. The captain can access information immediately - local weather reports, port information and cargo details.

"We are also installing more applications on board. The data is replicated between ship and office via a specially designed database synchronization, which of course, requires data communication capacity. Applications that monitor data sensors for fuel consumption and engine performance are especially bandwidth hungry."

Additionally, it gives the vessel support engineers onshore the ability to provide remote support by directly taking over onboard PCs, Mr Van de Venne says. Such remote support increases the productivity and prevents any business interruption, at the same time reducing the maintenance cost.

Global coverage, local presence
When the 22 vessels enter dry dock, or come near a service port, Spliethoff and Radio Holland engineers will work closely to install and configure the Sailor 900 Ku VSAT antenna and Below Deck Equipment. It is expected to take approximately two years to carry out the installations on all 22 vessels. The upgrade of the existing 27 vessels could be arranged remotely, and has already been done.

Nico van Leeuwen, Director Global Sales Services of Imtech Marine/Radio Holland added, "As well as the global coverage of our Ku-band service, we have a 24/7 VSAT support desk in three different time zones (Rotterdam, Singapore, Houston) that proactively monitors the satellite links and VSAT performance onboard. Besides that, Spliethoff can rely on our global service network along the shipping routes.

"The solution offered to Spliethoff fits very well in our strategy to offer our customers a complete onboard service package with the highest quality and for the best market price. Spliethoff has been a valuable customer for many years and we appreciate that they wish to continue to work with us as a partner for our ship to shore communications, hardware and global onboard service portfolio."