SST Tsimshian Warrior Blessed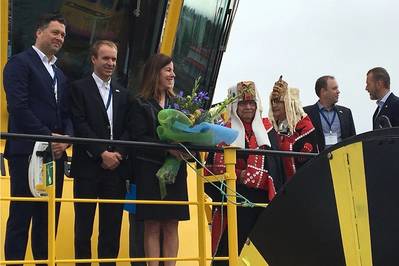 SAAM SMIT Canada Inc. (SST Canada) held a blessing ceremony for a new RAstar 3200-W escort tug named SST Tsimshian Warrior built by Turkey's UZMAR Shipyard.

This new Robert Allan Ltd. designed tug brings formidable capabilities to the west coast of British Columbia, Canada.

Principally intended to serve AltaGas' newly opened LPG terminal, the SST Tsimshian Warrior is both the most powerful tug of its kind on the coast, as well as the most environmentally friendly in Canada.

With an IMO Tier III compliant exhaust after-treatment system, a first on a tug in Canada and pioneering in the world as well, the tug's emissions of NOx, SOx, and particulate matter are dramatically reduced from levels seen on even the most recent generation of tugboats.

Powered by CAT 3516E engines each producing 2,525 kW of power at 1,800 rpm, combined with 2.8 m diameter Rolls-Royce (Kongsberg) controllable pitch azimuthing stern drive (ASD) propellers, the tug generates bollard pulls well in excess of 80 tonnes.

It is however the tug's performance in indirect escort modes that truly sets it apart from other tugs in the region. Using its unique sponsoned RAstar hull form, the tug can generate and safely sustain steering and braking forces in excess of 80 and 120 tonnes respectively at escort speeds of up to 10 knots in the tethered mode. When free-running, the tug reaches speeds in excess of 14 knots.

This performance was designed to meet and exceed stringent performance requirements that were carefully identified and verified by multiple real-time full mission bridge simulations in collaboration with British Columbia Coast Pilots, Pacific Maritime Institute, Towing Solutions Inc., Lantec Marine Inc., Robert Allan Ltd. and SST Canada.

A truly state-of-the art tug, the SST Tsimshian Warrior will be capable of safely performing all ship-handling roles, including berthing, unberthing, and escort duties, including in heavier weather conditions.

The tug is also fully equipped for terminal standby roles with a Fi-Fi 1 with water spray (2,700 m3/hr) external fire-fighting system supplied by Marsis that can not only provide significant additional fire-fighting capability to the new LPG terminal, but to the Port of Prince Rupert as well.

Having been custom designed for servicing the terminal, the tug is also equipped with additional safety features including both a gas detection system, as well explosion-proof deck machinery.