Quantum Wins Coast Guard Ship Stability Contract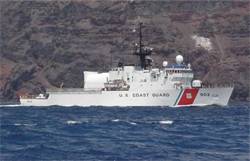 Quantum Stabilizers wont the contract for the refit and upgrade of the hydraulic stabilizer systems for the USCG's next four WMEC 270 medium endurance cutters. After development and delivery of the first system that was installed on the USCG's medium endurance cutter TAMPA, the option for the next four cutters was exercised. The entire contract is for all 13 vessels, the first vessel was the TAMPA and the remaining 12 vessels are split into a four year option.
"With the new stabilizer and
control systems installed
, the crew will have a more comfortable ride which in turn will help create better working conditions when out on missions and on behalf of all of our employees," said John Allen, President of Quantum,
Quantum is also the supplier for the fin stabilizers for the FRC - Sentinel Class (Fast Response Cutters) program under construction, which consists of 36 new vessels that will eventually replace the older 110' Island Class vessels. An important part of the hydraulic stabilizer refit and update for the WMEC270's is that the system Powerpack and control is identical to the one used on the new USCG's FRC vessels and therefore helps the USCG service department to maximize their efficiency when it comes to the servicing and maintaining the parts inventory. It also assists with fleet integration through cross over in training and operation.