Stainless Steel Tankships a First in Japan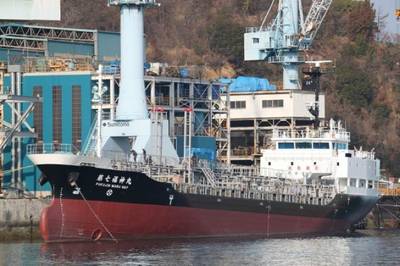 Duplex stainless steel, NSSC®2120 by Nippon Steel & Sumikin Stainless Steel Corporation was recentlly chosen for the construction of two domestic tankers.
Sasaki Shipbuilding Co., Ltd. & Hakata Shipbuilding Co., Ltd. became the first shipbuilders in Japan to use stainless steel in the recent construction of the vessels, although these days, duplex stainless steels (ASTM A240M S31803, S32205) are increasingly being used for the construction of chemical tankers around the world.
Nippon Steel & Sumikin Stainless Steel's NSSC®2120 (21Cr-2Ni-N, ASTM A240M S82122), which was given process approval by ClassNK (Nippon Kaiji Kyokai) in November 2011, reduces material cost due to its high-strength design, cutting back on steel use while providing greater corrosion resistance. NSSC®2120 and the manufacturers highly recommend it as a substitute for SUS304 which is currently being used in tankship construction.
Main features of NSSC®2120 :
1. It has a strength (0.2% proof stress) nearly twice that of SUS304, facilitating using less steel.
2. Low levels of Ni and Mo (2%Ni is 1/4 of SUS304) make greater economic sense and price stability.
3. Loading capacity for chemical cargos is equal to SUS304.
4. Pitting corrosion resistance to seawater and other chlorides is equal to or better than SUS304.
5. Corrosion resistance to sulfuric and other acids is better than SUS304.
6. It is usable for wide-width cladding, providing a cost advantage over heavy-walled solids.
7. It has good weldability, making possible CO2 gas-shielded arc welding, as well as submerged arc welding.
(Welding material: SUS329J3L)