Star Bulk Carriers Reports Q1 Loss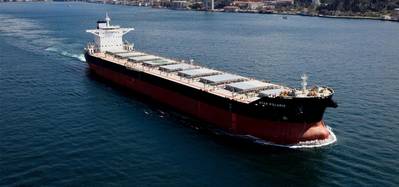 Greek shipping company Star Bulk Carriers Corp reported a net loss of $5.3 million, or $0.06 loss per share for the first quarter ended March 31, 2019.

Net income for the first quarter of 2018 was $9.9 million, said the global shipping company providing worldwide seaborne transportation solutions in the dry bulk sector.

"By the end of May 2019 we are on track to have 40 vessels scrubber fitted. We expect to have a fully scrubber fitted fleet by January 2020. Because we expect 2020 to be a more profitable year, we want to maximize the operating days in 2020 and we thus bring forward to 2019 all our drydocks that would otherwise be due in 2020," said Petros Pappas, Chief Executive Officer of Star Bulk.

"We expect to undergo 52 drydocks during this year mostly concurrent with scrubber installations which, in combination with 50 at sea installations, will reduce as much as possible our off hire time during 2019," he added.

Voyage revenues for the first quarter of 2019 increased to $166.5 million from $121.1 million in the first quarter of 2018.