State-of-the-Art Dredger Launched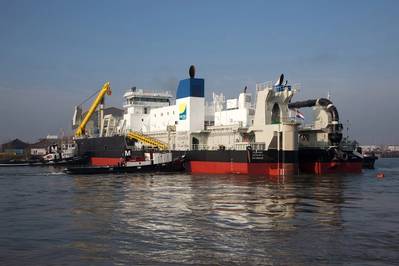 AL BAHAR C/D HUTA 12 named, launched at IHC Merwede

IHC Merwede named and launched the 23,545 kW self-propelled cutter suction dredger 'AL BAHAR' C/D HUTA 12 in a ceremony on March 8, 2014 at the company's shipyard in Kinderdijk, The Netherlands.
It is building the innovative vessel for Huta Marine Works, which is based in Saudi Arabia. The ceremony was performed by Sylvia Wuebbens, the daughter of M. Wuebbens, the Managing Director of Huta Marine Works.

The contract for the design, construction and delivery of the vessel was signed between Huta Marine Works and IHC Holland, part of IHC Merwede, on October 11, 2012. The keel was laid on August 14, 2013 and the ship will be delivered in the third quarter of 2014.

'AL BAHAR' C/D HUTA 12 is named after one of the favorite horses of Prophet Muhammad. It means strong, smooth and swift, like the flow of running water.

'AL BAHAR' C/D HUTA 12 has been designed and built using the latest technological developments. She is equipped with separate accommodation for the sailing and operating crews, a travelling deck crane and azimuth thrusters. Special attention has been paid to the maintenance features and accessibility. The vessel will be deployed predominantly on both sides of the Arabian Peninsula, where she will dredge hard soil in difficult climatic conditions.

"Huta Marine Works and IHC Merwede are both proud of the 'AL BAHAR' C/D HUTA 12," said Fer Tummers, Managing Director of IHC Merwede's Dredging division. "We have worked closely with Huta's staff to achieve a successful outcome. Both companies already have a history of strong cooperation, demonstrated by the delivery of the cutter suction dredger AL SAKAB. Once again, we have proven to be a reliable partner with the construction of this high quality dredger in record time."

Main Particulars
Name AL BAHAR C/D HUTA 12
Type Self-propelled cutter suction dredger
Owner Huta Marine Works Ltd.
Builder IHC Holland BV
Length o.a. 122.5m
Breadth 21.7m
Depth 6.8m
Draft 5m
Dredging depth 28m
Total installed power 23,545kW
Speed 9 knots
Accommodation 40 people