DNV to Study Risk for LNG Bunker Station in German Port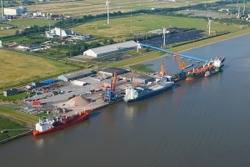 DNV has been contracted to conduct the risk studies of an LNG bunkering project at Brunsbüttel Port, Germany
Gasnor and Brunsbüttel Port are planning to build an LNG (liquefied natural gas) bunker station at Brunsbüttel, Germany. DNV has been contracted to conduct the risk studies of the project, which will be the basis for the authorities' approval of the project.
With this important step Gasnor and Brunsbüttel Port are leading the way in offering LNG fuel at Brunsbüttel and the Northern German area, at the strategic location of the crossing of the river Elbe and the Kiel-Canal. In the context of generally increasing demands in environmentally friendly shipping, eco-friendly fuel is a key aspect. LNG is an environmentally-friendly energy source for ships, and it has already been in use for quite some years. The planned LNG bunker station will provide a safe, reliable and cost-effective way for fuelling sea vessels and barges with LNG.
Gasnor has contracted DNV to conduct the risk studies that will be the basis for the authorities' approval of the project. Important elements in the risk analysis are a safety screening of the site and a safety analysis for the chosen location in terms of quantitative risk analysis, emergency planning and nautical risk analysis.
In addition DNV will be supporting the communication process with approval authority LLUR (Landesamt für Landwirtschaft, Umwelt und ländliche Räume / agency for agriculture, environment and rural areas). "With this project, Gasnor and Brunsbüttel Ports GmbH are clearly taking a crucial step in the development of LNG bunkering infrastructure in this geographical area", says Mohamed Houari, Head of Solutions, Central Europe of DNV.
Brunsbüttel Ports GmbH is owner and operator of three ports at Brunsbüttel (Elbehafen, Oilport and port of Ostermoor). The Elbehafen being multi-purpose port with water draft of 14.40 m provides ideal conditions for an LNG bunker station for shipping from and to Hamburg as well as for all traffic on the Kiel-Canal. In 2010 31,933 ships used the Kiel Canal and 9,843 ships called the port of Hamburg.