Asia VLCC Rates Hold Steady after Near 4-week High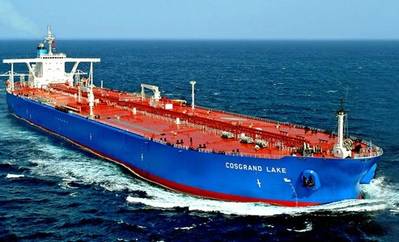 Freight rates in Asian trades for very large crude carriers (VLCCs) are set to hold steady around current levels next week, after hitting a near four-week high on Thursday, as tanker supply matches cargo demand.
"I can't see the market crashing, or spiking. There are enough ships - there is no real shortage of tonnage," a Singapore-based supertanker broker said on Friday.
Around 32 VLCC cargoes have been fixed for loading in the Middle East in the first 10 days of March with 6 to 12 charters still to be agreed, he said.
Unipec was the most prolific charterer, agreeing nine Middle East-China VLCC charters for early March loading since Feb. 12, according to Reuters freight data.
"Rates are not rock-star, but they are holding on," he added.
Daily earnings are between $50,000-$56,500 for a VLCC depending where the oil cargo is loaded and unloaded, he said.
Operating costs for a VLCC are just over $10,000 per day, according to data from accountancy firm Moore Stephens.
"It's not a particularly exciting month, the market is moving slowly," the Singapore broker said.
Bad weather and port delays in China have eased since last week, falling from a 7-10 day delay last week to around 3-4 days this week, the broker said. This has the potential to increase the number of ships available for charter.
"Rates both in the Middle East and West Africa are slightly up from last done levels, but further attempts from owners to push further is so far met by a colder shoulder from the charterers," Norwegian ship broker Fearnley said in a note on Wednesday.
Freight rates for the Middle East to Japan benchmark route rose to W63 on the Worldscale measure on Thursday, the highest since Jan. 25 and up from around W62.50 last week.
VLCC rates from West Africa to China climbed to W72 on Thursday, the highest since Jan. 22, against around W65.50 the same day last week.
That comes as Angola plans to export 57 crude oil cargoes in April, according to a revised Sonangol loading programme released on Thursday. That will lift exports to 1.83 million barrels per day in April.
Rates for an 80,000-dwt Aframax tanker from Southeast Asia to East Coast Australia rose to W112.25 on Thursday, the highest since Jan. 22, compared with W106.25 last Thursday.
The surge in rates was partly caused by tighter tonnage supply due to earlier unloading delays in China, an Aframax broker said on Friday.
Clean tanker rates from Singapore to Japan nudged up to around W129.25 on Thursday, from almost W127.75 last week.
(Reporting by Keith Wallis; Editing by Anupama Dwivedi)