Steel Cut for Awilco Rig at Nantong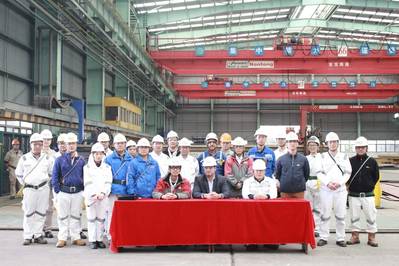 Offshore drilling contractor Awilco Drilling has said that the first steel has been cut for its second rig under construction at a Keppel yard.

"We are pleased to confirm that first steel cutting took place for the lower hull of our new CS60 ECO drilling semi-submersible at KeppelFels shipyard in Nantong, China," said the drilling contractors based in the North Sea oil & gas sector.

"We expect to also strike steel on the upper hull at KeppelFels in Singapore within December," it said.

The new rig is scheduled for delivery in March 2021, the UK offshore company said.

Meanwhile, Awilco Drilling reported contract revenue of USD 10.3 million (USD 10.4 million in Q2), EBITDA USD 2.6 million (USD 2.5 million in Q2) and net loss of USD 0.9 million (USD 0.4 million loss in Q2).

Revenue efficiency was 96.2% during the quarter (90.5 % in Q2) and operational uptime was 100% during the quarter (95.9% in Q2).