Steiner Delivers Fourth Z-Drive Pushboat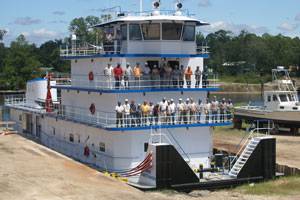 The final, for now, delivery in a series of four 120 by 34-ft 3200-HP Z-drive towboats was completed at Steiner Shipyard in Alabama. The innovative vessels were built for Southern Towing of Memphis Tennessee.

As with the other three vessels the Arne Christiansen is powered by a pair of Tier 2 compliant Cummins QSK50 mains, each rated for 1,600 HP at 1800 RPM provides the power. The two engines are mounted aft on the main deck level. They turn short four-foot shafts to HRP Z-drives carrying 74.8-inch (1900 m/m) propellers in steerable nozzles.

The use of steerable nozzles in the Edward Shearer designed vessels was a significant departure for Mississippi pushboat design. Kenny Williams, pilot on the David Stegbauer delivered in December 2008, Kenny explained some of the advantages in the Z-drive boats handling while steering around the big bends up-bound on the river from New Orleans. With a rudder boat I would be putting on 40 to 45 degrees of rudder on both sides, but with the Z-drive I only put about 20 degrees on the drive that is on the inside of the turn while the other drive pushes ahead.

When steering down river with loaded barges he said, With a rudder boat the biggest danger in flanking a bend is losing your stern to the current: with a Z-drive you can just turn it back in.

Southerns President William (Bill) Stegbauer says of the design of the firms Z-drive tugs, We built the last boat the same as the first one. They have exceeded our expectations on fuel economy and pushing power. Down bound, they can push around bends that a conventional boat would have to flank and lining up for locks and bridges is much easier so contributes to shortened trips which is good for our customers. We have been operating the first one for a year now and have had no prop damage.

There is little doubt that the Arne Christiansen and the other three vessels from Steiner will continue to attract interest on the Mississippi River system.