'Blue Orca' Active in North Sea Well Stimulation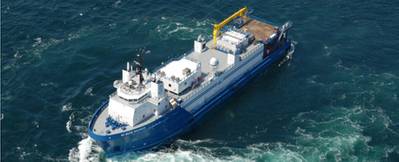 Maersk Oil has contracted with well-stimulation vessel owner Baker Hughes for the charter of the 'Blue Orca', currently busy in restoring safe and efficient production to ageing North Sea wells.
The Blue Orca incorporates state-of-the-art stimulation technology and unsurpassed treatment capabilities to reduce risk, rig time, and nonproductive time (NPT) while enhancing production and profits. The vessel is specially engineered for North Sea conditions, and can minimize NPT by performing a series of well stimulations and sand-control operations without the need to return to port and resupply. explains Baker Hughes.

The Blue Orca stimulation vessel houses five Baker Hughes Gorilla™ pump units, each one capable of delivering 2,750 HHP. The two fluidend sizes can be reconfigured quickly and easily to provide maximum flexibility, and the vessel can carry 2.5 million lbm (1134 tonnes) of sand or equivalent proppant – allowing it to perform multiple fracturing treatments without having to return to port to resupply.