USCG to Inspect Storm-damaged Anthem of the Seas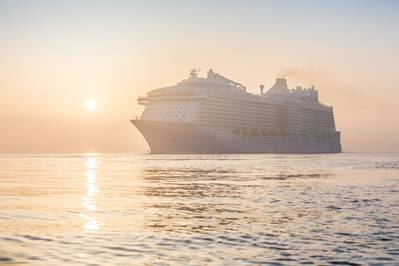 The storm-damaged Royal Caribbean cruise ship Anthem of the Seas is scheduled to return to New York Harbor Wednesday evening where it will be met by a team of inspectors from U.S. Coast Guard Sector New York. Once the vessel's docked in New Jersey, the Coast Guard team will inspect the vessel to verify the extent of damages and ensure repairs are satisfactorily completed before the ship will be allowed to depart on its next voyage.

The Coast Guard will participate in an investigation that will help determine if there are any contributing causal factors or lessons learned from this event that could help prevent injuries or damage in the future, as occurs with any commercial vessel operating in U.S. waters under similar circumstances. Anthem of the Seas is a Bahamian-flagged vessel, and Bahamian investigators will take the lead in the investigation with assistance from U.S. Coast Guard officials.

The cruise ship departed from Cape Liberty Cruise Terminal in Bayonne, N.J., Saturday with approximately 4,500 guests and 1,600 crewmembers aboard for a scheduled seven-day roundtrip to the Bahamas. The Anthem of the Seas was en route to Port Canaveral, Fla. for a scheduled port call, Sunday when the vessel encountered a storm at sea off of Cape Hatteras, N.C. The storm produced wind gusts of more than 75 mph and rough 30-foot seas.

Crewmembers reported several passengers with minor injuries but no indication of any life-threatening emergencies.

The cruise ship sustained largely cosmetic damage but the vessel is both seaworthy and maneuverable at this time.