Prince of Wales Visits Seagen at Strangford Lough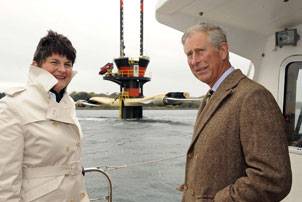 His Royal Highness The Prince of Wales has visited Marine Current Turbines' SeaGen, a marine current and tidal stream technology that is deployed in Northern Ireland's Strangford Lough and generating power into the local grid on a daily basis.

On May 13, HRH was greeted by Mr David Lindsay the Lord-Lieutenant for County Down and went on to meet Mrs Arlene Foster MLA Minister of Enterprise, Trade and Investment, Martin Wright Managing Director of Marine Current Turbines (MCT), and Professor Peter Gregson DL President and Vice-Chancellor Queen's University Belfast. The Queen's Marine Research facility at Portaferry, on the shore of Strangford Lough, provides an operating and monitoring base for MCT and offers research assistance to the company in its operation of SeaGen.

His Royal Highness attended a short presentation on the SeaGen project from MCT's Martin Wright and colleagues and then sailed out to the turbine to see the project in its operational environment.