Security Strengthened with New Escort Vessel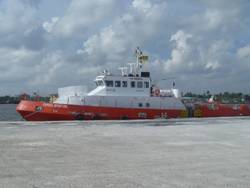 SeaHold GEOSHIPS Ltd's subsidiary company Brooking Shipping Limited (BSL), has been awarded a contract for an escort vessel which is anticipated to generate £1.9million each year.
This is the first contract BSL has been awarded since being acquired by the shipping and marine contractor, GEOSHIPS. BSL, the marine division of GEOSHIPS, has been appointed the escort vessel contract by Mercator International Limited, for the technical and crew management of the new build 36m vessel, Express Opportune. It is a fast support intervention vessel capable of 25 knots and specifically prepared for the Anti-Piracy role.
BSL took delivery of the vessel in Singapore and the contract is initially for six months with automatic extensions. The work will primarily be in support of commercial ships transiting the Arabian Gulf and East Africa areas. Escort vessels act as a visible threat deterrent and enforce an exclusion zone around a commercial vessel. They also provide specialist security teams trained in the use of fast intercept craft and counter boarding operations. For the initial six months, the value of the contract to the company is worth over £1million and a Letter of Intent has been received for a second escort vessel to operate in similar geographical regions.
GEOSHIPS, group chief financial officer, Neil Donald, said: "I am delighted that Brooklyn Shipping Ltd has secured its first contract under the GEOSHIPS umbrella and is diversifying its skills out with the oil and gas industry. Entering into this contract reinforces the firm's continued commitment to optimising safety for crews. This type of vessel allows operators to take advantage of business in new areas that were previously considered too high risk to enter."
BSL, managing director, Rennie Cameron, said: "This is an exciting contract for us and vessel protection is an area of increasing concern. The escort vessel offers 24/7 protection to commercial vessels passing through high risk areas. It can establish the intent of crafts in the vicinity of the commercial vessel and intercept if needed. This safety cordon around the client vessel helps to protect it from potential criminal activity."
Plans are already in place to consider expanding with BSL as ship managers, to four or five vessels in 2012, which would lead to a turnover of around £7.5 to £9.5million per annum. Formed in 2003, Aberdeen-based SeaHold GEOSHIPS has a forecasted turnover of £17million for the 2012 financial year, with turnover projected to increase to around £120million by 2015 on the back of an eight vessel fleet. It has a strong focus on offshore renewable energy projects, whilst also being able to offer services in support of subsea oil and gas related projects. GEOSHIPS current fleet of three multi purpose offshore vessels includes its first vessel the Stril Explorer, which was taken on an 18-month charter earlier this year, and it's two newest vessels, 'Loch Erisort' and 'Loch Roag', which are on long term charters and will be delivered during 2012.
With a team of eight, GEOSHIPS is looking to recruit at least five new employees in the next six months. To meet staffing requirements on-board the expanding fleet, GEOSHIPS expects to have around 300 personnel, including marine crew, in the next three years. Ellon based BSL was formed in 1983 and over the years has created a compact, cost-effective marine services organisation with substantial experience of the management of dynamically positioned subsea operations support vessels. BSL currently employs five office staff covering international marine management operations. This is expected to increase to around 8 in the next year, with all of the new positions being created at BSL's new Ellon offices. In addition to its office-based management resource, BSL has 35 sea-going staff and this number is also expected to increase following the acquisition, to at least 80 in the next six months, to support GEOSHIPS.