Hurricane Patricia Strengthens, Heads for Mexico's Pacific Coast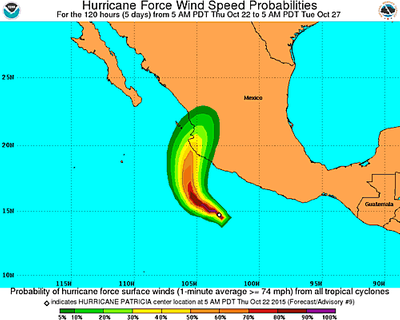 Hurricane Patricia was gaining strength off Mexico's Pacific coast on Thursday and was expected to land as "an extremely dangerous major" storm near a major shipping port and the tourist resort of Puerto Vallarta, the U.S. National Hurricane Center said.

The storm, which became a hurricane overnight, had maximum sustained winds of about 100 miles per hour (160 km per hour) as it moved toward the west-northwest at 17 mph (28 kph).

Patricia was currently located about 285 miles (460 km) south of the port of Manzanillo, where a hurricane warning had been issued. A tropical storm warning was in effect for Puerto Vallarta.

The storm was expected to hit the hurricane warning area by Friday afternoon or evening, the Miami-based hurricane center said.

None of Mexican state oil giant Pemex's major installations lie in the projected path of the storm.
(Reporting by Michael O'Boyle)