Offshore Structural Strength Analysis Software Launched by DNV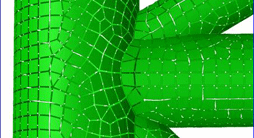 DNV Software introduces new 6.3 version of Sesam GeniE, to provide strength analysis through the entire lifecycle of fixed offshore structures.

To avoid catastrophes at oil or gas field operations it is vital that a thorough strength analysis is done before a structure is operative. The effects of wave, wind and fatigue determine the duration and profitability of the operation, and correct calculations are critical.

Efficient strength analysis throughout all stages of the life cycle of an offshore structure – construction, transportation/installation, in-place, modification, and requalification – has been a significant challenge in the marketplace. When reuse of the same model data through all these stages is not supported, the analytics become inefficient and imprecise. Necessary modifications at later stages in the lifecycle of offshore structures have become increasingly important in today's market.

With the new version of Sesam GeniE the user can easily reuse all the model data in all stages of a jacket's lifecycle, including modification and requalification projects. This will save time and improve the quality of the calculations.

Existing model data from other CAD/CAE-systems can easily be imported to the new version of Sesam GeniE; including data from older versions of Sesam or from competitors such as Sacs, StaadPro, Ansys or Nastran. This means that previous investments are secured when importing into Sesam GeniE.

"By importing data into Sesam GeniE the user will save the time that would have been spent remodelling from scratch. In addition, Sesam GeniE will have the information on the quality of the model, and will help understand previous modelling. In other words, modification and requalification projects are simplified, and the impact on security and profitability is significant,", says Ole Jan Nekstad, DNV Software Product Director Sesam.