BOURBON Installs New Wind Structure in Atlantic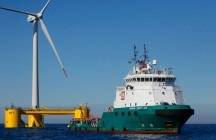 Capitalizing on its experience and leadership in offshore oil and gas marine services, BOURBON continues to extend its range of services and strengthen its positions in the offshore wind industry. BOURBON has just installed an innovative offshore wind structure in the Atlantic.
In perfect conditions off the coast of Portugal at Aguçadoura, BOURBON has installed a semi-submersible wind turbine with a WindFloat foundation, a project led by the Portuguese utility EDP and designed by the US technology developer Principle Power This innovative technology enables the wind turbine to be assembled onshore with standard turbines, and then towed and anchored at a sufficient distance so as not to be visible from the coast. For the successful installation of its wind structure, Principle Power relied on the maritime expertise of BOURBON's seafarer and engineering teams. " The high level of BOURBON employees' expertise allowed for the successful deployment of each step of the project : engineering and management, mooring system installation and pre-tensioning, WindFloat towing and on-site mooring, subsea installation and power connection," explains Eric Verrière, Managing Director of Bourbon Offshore Surf, BOURBON's French subsidiary.
These operations were performed by Bourbon Liberty 228, an Anchor Handling Tug Supply vessel (AHTS) from the BOURBON fleet. They demonstrate BOURBON's fleet adaptability and confirm the Group's capacity to meet specific client needs. "As of June 2010, BOURBON has been operating in offshore wind with the Bourbon Enterprise" says Patrick Belenfant, Senior Vice-President Business Management, Bourbon Subsea Services. "This IMR vessel (dedicated to Inspection, Maintenance and Repair of subsea infrastructures) first intervened on the Greater Gabbard Wind Farm, one of the biggest offshore installation projects off the South-East coast of England, before joining the BARD Offshore 1 field off Germany and ensuring operations until October 2011. "For the successful installation of its wind structure, Principle Power relied on the maritime expertise of BOURBON's seafarer and engineering teams. "
The high level of BOURBON employees' expertise allowed for the successful deployment of each step of the project : engineering and management, mooring system installation and pre-tensioning, WindFloat towing and on-site mooring, subsea installation and power connection," explains Eric Verrière, Managing Director of Bourbon Offshore Surf, BOURBON's French subsidiary. These operations were performed by Bourbon Liberty 228, an Anchor Handling Tug Supply vessel from the BOURBON fleet. They demonstrate BOURBON's fleet adaptability and confirm the Group's capacity to meet specific client needs. "As of June 2010, BOURBON has been operating in offshore wind with the Bourbon Enterprise" says Patrick Belenfant, Senior Vice-President Business Management, Bourbon Subsea Services. "This IMR vessel (dedicated to Inspection, Maintenance and Repair of subsea infrastructures) first intervened on the Greater Gabbard Wind Farm, one of the biggest offshore installation projects off the South-East coast of England, before joining the BARD Offshore 1 field off Germany and ensuring operations until October 2011."