Sub-Sea Tin Mining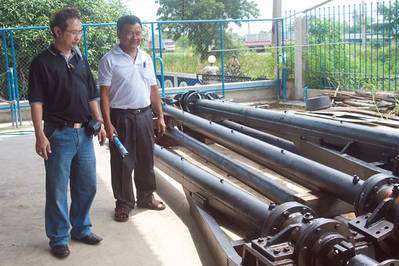 According to some reports, the world's first mining operation in the world to use vessels for dredging ore from the sea bottom was developed in 1907 by Australian Edward Miles. He dredged the sea bottom around Thailand's modern tourist island of Phuket to recover tin, which had been mined on the island for hundreds of years. By the 1960s some innovative entrepreneurs had begun to build iron rafts using drills to loosen the sea bottom allowing them to vacuum the residue to the surface in order to separate the tin.

Khun Wanchai Wiriyajaree's father was one of the innovators who developed this early equipment. When tin mining was replaced by tourism in the 1970s and 80s, Khun Wanchai moved north of Bangkok to the province of Ayutthaya where today he builds sophisticated versions of the dredges that his father helped develop. There is a steady demand in Indonesia for these dredges as they are smaller than some of the large equipment and so able to work in around obstructions.

Khun Wanchai currently has a dredge under construction that is similar to the recently delivered dredge CINTA. With over all dimensions of 262.4 ft by 52.4 ft, the dredge is mounted on a pontoon-barge formed from 8.3-ft diameter pipes. The cutter arms on this class of dredgers range in length from 137.7 ft to 183.7 ft. The rotating cutter head engine can be a small as 320 hp and is typically a Japanese truck engine. For the dredge pump on the CINTA an 850 hp Cummins KTA38 M0 is employed. Four Cummins 855 engines provide propulsion power. The two outboard of these turn shafts with props directed aft. The two inboard engines drive shafts with props directed at about 45 degrees to port and starboard of the centerline. This arrangement provides the steering and maneuverability of the big barge.

The dredged material is pumped into a series of hoppers where it is washed and vibrated to produce a concentrate that is 70-percent tin. Khun Wanchai markets his dredges as turnkey operations complete with a trained Thai crew. The crew is composed of three engineers, four maintenance workers, three vessel operators and four labourers. Remarkably the Thai crew runs the vessel on the delivery voyage nearly 2000 kilometers south from Ayutthaya Thailand to Bangka Island off the south east coast of Sumatra in Indonesia.

As in Phuket, tin has been mined on Bangka Island since at least the seventeenth century. Today it is being done with the international cooperation of technology whose design originated in Phuket.