Submarine Lembit Reaches Land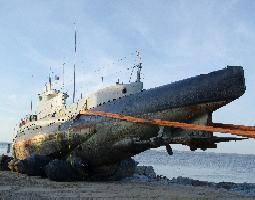 The evening of Saturday, 21 May, saw the completion of a long and complicated engineering technical process, as a result of which the 600-tonne submarine Lembit is now securely on land.

Submarine Lembitwas lifted out along a 100-metre ramp or slip built especially for that purpose at the Seaplane Harbour. For winching the submarine out, Lembit was supported by 8-metre pontoons and armoured car BTS-4, built on the basis of T54 and equipped with a winch, was used to pull the submarine out.

According to Urmas Dresen, the Director of the Estonian Maritime Museum, the entire operation lasted longer than initially planned, but the efforts fulfilled their purpose and the object of historical heritage was safely brought to shore. "We took a very important step forward in the preparation of the Seaplane Harbour exposition. In the coming month, we shall carry out the cleaning and painting works on Lembit's hull, after which the crown jewel of Estonian maritime history will take its worthy place in the hangars,"said Dresen, expressing his great satisfaction with the large number of supporters. During the two days, nearly 2,000 people came to watch the lifting of the submarine at the Seaplane Harbour, while nearly 18,000 people watched the live broadcast on the Delfi Internet site.

The operation of lifting submarine Lembit lasted for about 20 hours and the works were performed by Fort Ehitus, Tuukritööde OÜ and MEC Marine Engineering and Consulting. "As previously no ships have been brought out of water using such technology in Estonia, we gained a very valuable experience.From the technical viewpoint, the entire operation went according to plan, we had even allowed for greater traction power than we actually needed. In reality, we used approximately 40 tonnes of our 175-tonne traction power resource. The time schedule of the operation depended on the installation of the pontoons and therefore there was a small delay due to, for instance, fluctuations in the water level, waves from jet boats in the morning and other minor details, which all played a role in the installation of the pontoons,"explainedHendrikNaar, Head of Development atMEC Marine Engineering and Consulting.

Lifting submarine Lembit out of water, transporting it and installing it in the seaplane hangars to be reconstructed for the Maritime Museum will cost 362,970 EUR. The works are financed by Enterprise Estonia from the European UnionRegional Development Fund and the European Social Fund.
Submarine Lembit is the only minelayer submarine of its series left in the world and has, despite everything, survived in a rather original condition and without major reconstructions. Even the country of its birth – England – no longer has any submarines from that period.In the 1930s, Lembitrepresented the high-end submarine technology with its modern and innovative design. Until the early hours of 21 May, Lembitwas the world's oldest submarine still floating on water.

Source: www.lennusadam.eu