Indonesia Orders Submarines from DSME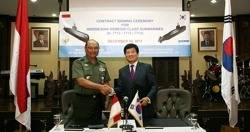 DSME won a new order for three submarines from Indonesia. This contract is the single biggest arms sales deal by a Korean firm and the value of the contract is approximately 1.1 billion dollars with the submarines scheduled to be delivered in the first half of the year of 2018.

This contract is comprised of three 1,400 ton class diesel-powered submarines with each one measuring 61.3m from stern to bow with the ability to carry 40 crew. These submarines will be fully armed with eight weapon tubes able to discharge all kinds of torpedos, mines, and guided missiles.

DSME had an elaborate plan for this contract originating in 2006 as a gradational strategy with the Indonesian government. The company originally got depot maintenance and performance improvement contracts from the Indonesian Navy in 2003 and 2009. DSME established a close working relationship with the Indonesian government so that the company was able to achieve Korea's first export of submarines.
DSME has the best sales record in the submarine business among the Korean Shipbuilding companies. The company originally built a 1,200 ton class submarine in 1988 through technology passed down from Germany. This contract has given DSME an competitive advantage over price, quality, logistic support, and ship building technology compared with France, Germany, and Russia which are the traditional powers of the diesel submarine building industry.

The President and CEO of DSME Mr. Sang-Tae Nam said, "We have now secured a foothold in the submarine business in Southeast Asia and we look forward to additional orders based on this contract."
DSME has won a total of 14 submarine contracts, including this contract, at home and abroad. The company has also been awarded 15 depot maintenance and performance improvement contracts in Korea and 2 contracts from abroad. Based on these achievements, DSME is raising its profile as a strong company in the submarine building market.
This latest contract puts DSME's 2011 secured orders at 52 vessels, special ship, and offshore platforms worth USD 14 billion and exceeds the sales target by 30%.