Radical Submersible Catamaran Concept Design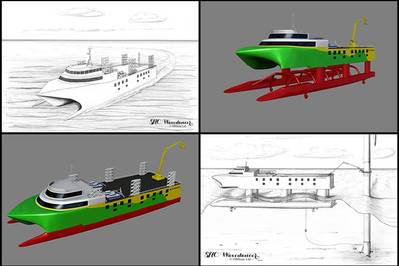 The offshore support vessel concept design is named 'SHC Wavedancer' and the designer calls it – 'The workhorse of the future'.
The designer, Dennis Knox, describes his ship as being both exceptionally stable in bad weather, as well as fast, with a speed of 50 knots. In bad weather he elaborates: "The seas are high, fifteen foot waves and other ships are bouncing around like a cork, but not us. We could play billiards in the mess deck, but we have work to. There is a platform to re-supply, the Superintendent wants his ice cream for dinner.

"
He continues: "In the offshore industry the biggest battle we face is with the weather. I have been a mariner for about 40 years and worked in offshore oil and gas for about 25 years. I have sat on ships riding out marginally bad weather that costs companies millions in losses."

Just last year I was involved in a simple 3 day operation to install a subsea template. The limiting factor imposed by the warranty surveyors was less than 1.5m sea state. We waited five weeks at about $500,000 a day vessel costs to get the right conditions. The SHC Wavedancer could have done the job with no weather delays. This vessel is revolutionary, it is a game changer, it will have a major impact and will become the vessel of choice for most offshore operations."
"All up to get to start a build I will need to raise about half a million dollars, but with your help to get started so we can do the first bit, then we should be able to attract some major investors for the rest."

"Check me out, Dennis Knox, I am on LinkedIn. You will find that I do know a little about ships and things."

For more information click here.